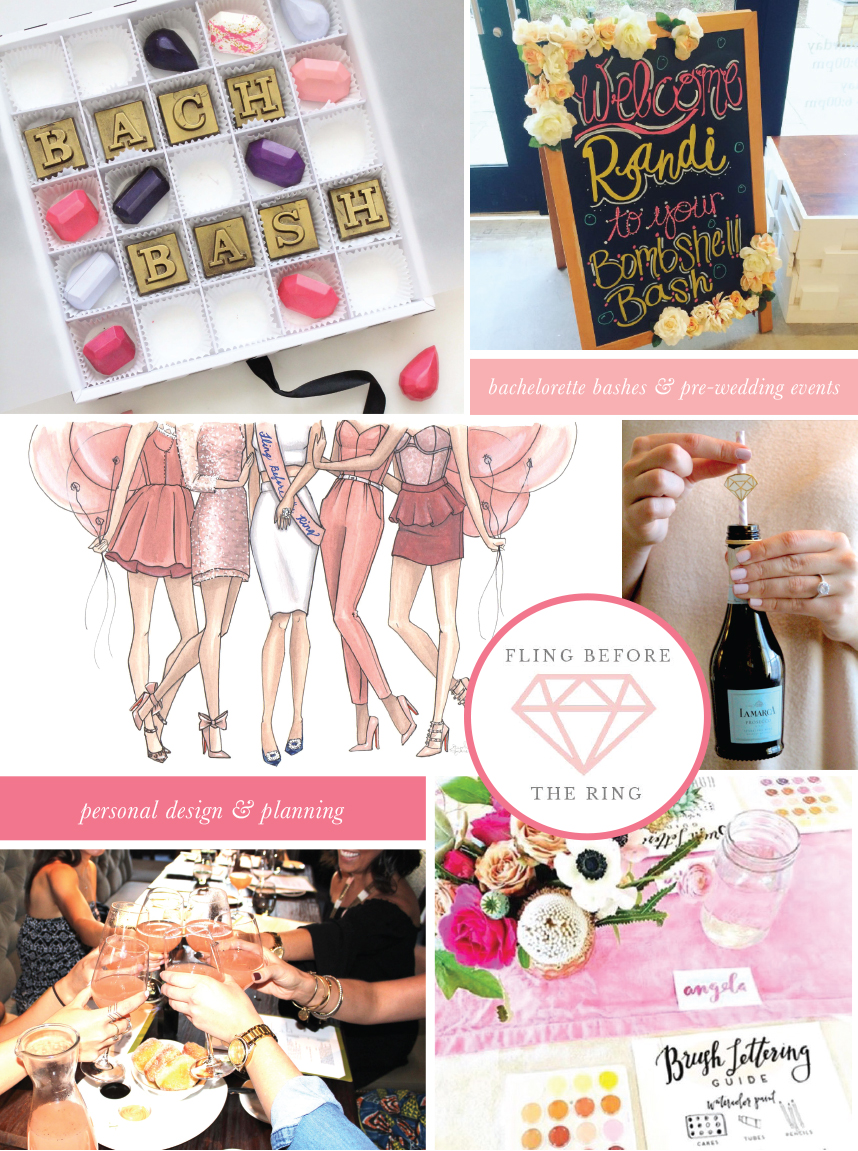 Bachelorette parties are a right of passage in today's pre-wedding festivities. The bride-to-be gathers all of her girlfriends, and they hit the town to celebrate her last days as a single lady. However, planning every detail of the party can be stressful on top of planning your upcoming wedding. We sat down with Nikki Clause, Founder of Fling Before The Ring – a personal design and planning service for all things "Bachelorette," who gave us the inside scoop on how she helps brides plan a bachelorette bash that will leave your maids talking for years to come!
What types of services do you offer?
We are your personal design and planning service for all things bachelorette and pre-wedding. Is party planning not your forte? Or maybe you just don't have the time? We get it! Planning a special event or weekend trip can be a full-time job. We handle everything from accommodations, eats and activities to invitations, party favors and décor. Our packages are completely customizable so that you can have a party planned to perfection, no matter the destination or budget.
How soon before the wedding should a bride host her bachelorette party?
Although I've seen it many different ways, I usually recommend hosting your bachelorette party anywhere from two to six weeks before the wedding. Getting crazy with your girls so close to the big day can be a recipe for disaster. A hangover and dark circles don't make for a very good bridal look. Extra planning tip: see if there's a holiday weekend around that time to snag an extra paid vacation day! Have more questions on timelines? You can subscribe on our website for a Bachelorette Planning Checklist freebie.
Which cities do you plan bachelorette parties in?
We are based out of the popular destination city of Austin, Texas, but offer our services to most major cities in the United States. We receive a variety of requests for parties anywhere from the east to the west coast. Whether you are looking for a beach bash in Florida, a city exploration in New York or a mountain getaway in Colorado, we've got you covered.
What activities do you suggest including?
The best part of my job is getting to create a unique experience based off of each group of women I work with. There truly is something for everyone. Gone are the days where every bachelorette party has to include bar hopping and hot pink everything. I'll get you outdoors with your girls for a paddleboard session or into a spa for a complete day of pampering. Maybe reservations at a private pop up restaurant for a unique dining experience. The options are endless.
What activities have been the biggest hits with your brides and their ladies?
With spring being prime wedding season, girls typically want to get out and enjoy the sunshine. Renting a boat or lounging at a chic hotel pool with a frozen cocktail always makes for a fun time. Also, activities that offer private style bookings have been super popular like yoga sessions and cooking lessons. My new favorite is a guided calligraphy and watercolor class complete with wine and cupcakes!
What do you think is the biggest mistake girls make when planning their own bachelorette parties?
I think the biggest mistake bridesmaids can make is planning around what they think a bachelorette party should look like instead of what they think the bride would want. If nightclubs, male strippers and falic party favors aren't her thing, don't book her the next ticket to Vegas. Get creative and plan a weekend filled with things that your bride loves. As her wing women, this is your time to cater to your bride-to-be as well as foot the bill, so be sensitive of any personal budgets to avoid tension amongst the group.
To have Fling Before the Ring help you plan your next girls only soiree, simply pick your party date, fill out their Contact form and get ready to pop the champagne! Cheers!
Save
Save
Save
Other Local Vendors:
Fling Before the Ring