Archive
Editorial Spotlight – Cruisin' Route 66 with Stella Photography
by Brides of Oklahoma March 19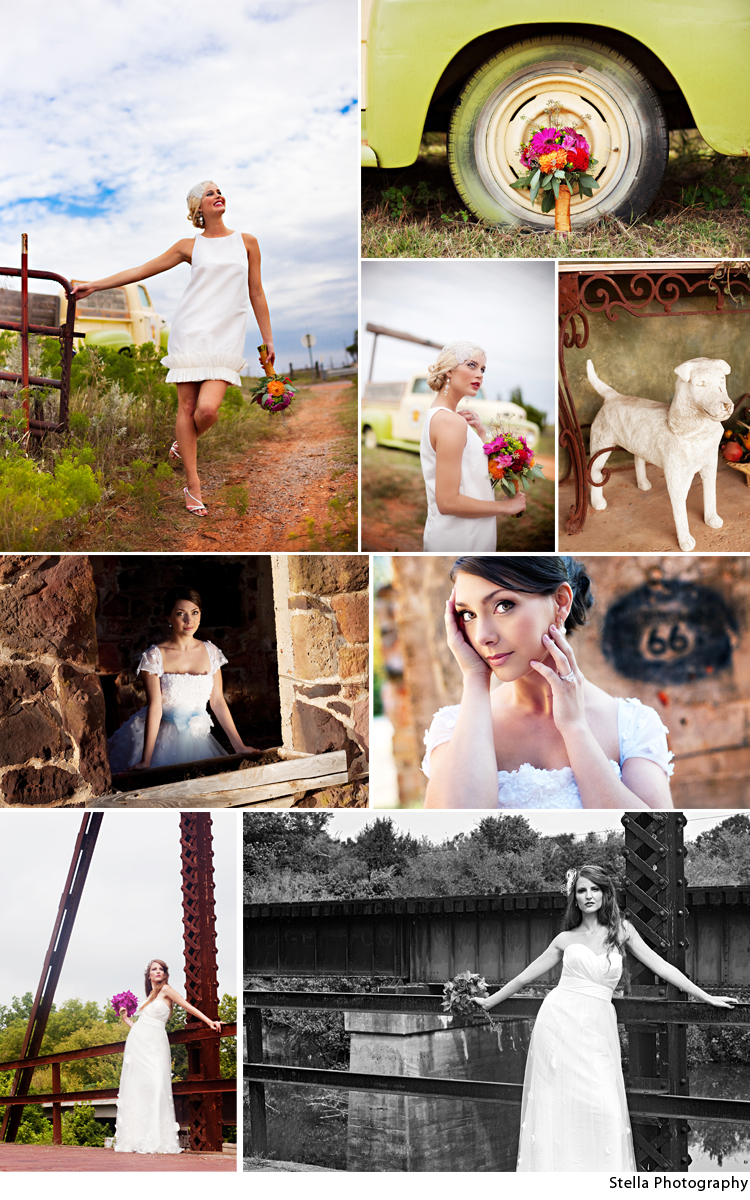 On the road again…cruisin' Route 66 to show some more amazing photographs from our gown shoot! These stunning images were captured by
Stella Photography.
The first series of photos, featuring Morgan, were shot on location at White Dog Hill, just outside of Clinton, Oklahoma. The view was incredible and the food simply can't be beat. Nelson surely knows the way to a woman's heart with the spread he prepared for us. The fun orange and pink bouquet was created by
Morrison Floral
of Oklahoma City.
The second set of images feature Kelsey! She was simply dazzling at the Rock Gas Station, modeling the Diamond and 18k white gold earrings from
Naifeh Fine Jewelry
, and chic style of
D'Plazzo Couture Designs
, custom bridal gowns from Oklahoma City.
Marine had a relaxing day on Rock Creek Bridge, just west of Sapulpa, Oklahoma. This historic bridge, built in 1921 is still in use today! These beautiful flowers are from
Petal Pushers
in Tulsa, and the gown is an original design from
Abelina's Bridal Boutique
in Tulsa!
Find these photo shoots in the Spring/Summer issue of Brides of Oklahoma on pages 126, 127 and 133. For behind the scenes footage from White Dog Hill and Rock Creek Bridge
click here.
Enjoy!
White Dog Hill
Gown   |  Meg Guess Couture –
Amsale, Little White Dress Collection
Veil  |  Meg Guess Couture –
Meg Guess Dolce Veil Collection
Shoes  |  Meg Guess Couture –
Filippa Scott Shoes
Jewelry  |  Mitchell's Jewelry –
Earrings by Varela
Bouquet  |  Morrison Floral
Make-up  |  Jennifer McLaughlin Make-up
Hairt  |  Rhiannon Sappenfield
Videography  |  Hawkins Digital Media
Photography  |  Stella Photography
Rock Gas Station
Gown  |  D'Plazzo Couture Designs
Jewelry  |  Naifeh Fine Jewelry
Hair & Make-up  |  Rhianon Sappenfield
Photography  |  Stella Photography
Rock Creek Bridge
Gown  |  Abelina's Bridal Boutique – Ruby Ren'ee Couture
Bouquet  |  Petal Pushers
Hair & Make-up  |  Faccia Bella
Videography  |  Penn weddings
Photography  |  Stella Photography